After the Texas Blackouts, Follow the Wind and Solar Money All $66 Billion of It 4/26/2021 Real Clear Energy
It's apparent that the $66 billion spent on renewables before the blackouts didn't make the Texas grid more robust – it made it more fragile.
Why renewables can't save the planet | Michael Shellenberger 1/4/2019 Youtube 17:32
A lifelong environmentalist, Michael changed his mind about nuclear energy and has helped save enough nuclear reactors to prevent an increase in carbon emissions equivalent to adding more than 10 million cars to the road.
Anderson County property owner compares wind farms to menacing strip clubs, landfills. 3/22/2021 Kansas Reflector
Sen. Mike Thompson, a Johnson County Republican who called wind turbines a public nuisance in need of restraint afforded by state statute.
Bill would limit wind farms in Kansas. 3/22/2021 KSNT tv station.
Turbines would need to be at least 1.5 miles from a home, 3 miles from an airport or park, and one mile from another person's property line. There also couldn't be more than one turbine per square mile. The amount of shadows and noise could also be taken into consideration.
Breaking News: Wind and Solar Potentially Aren't Climate Cure-Alls. 3/16/2021 Crux Investor
Due to the very nature of their design, renewables like solar and wind fail to provide energy security,
A study by the UK Department of Energy and Climate Change found It would require 130,000 acres of solar farms or 250,000 acres of onshore wind farms to replace one nuclear reactor that takes only 450 acres.
Sid Miller: 'We Should Never Build Another Wind Turbine in Texas' 2/16/2021 Texas Scorecard.
Louisville Company Claims New Technology Greatly Reduces Eagle Fatalities Near Wind Turbines. 2/1/2021 CBS Denver

Wildlife Society Bulletin proclaimed 83,000 hunting birds died each year due to wind turbine collisions. Technology that helps protect Bald Eagles from Wind Turbines and has been in development for over 4 years! Why isn't this technology standard equipment? They are at a stage where improvements are software not hardware so upgrading installed systems would be simple!
We need to build a lot of wind turbines. Will Americans agree to live near them? 1/22/2021 Grist

"The U.S. could in fact achieve net-zero by 2050 without spending much more of our gross domestic product on energy than we do today. But that finding came with several caveats, including the warning that 'expansive impacts on landscapes and communities' will have to be 'mitigated and managed to secure broad social license.' A lot more Americans are going to have to get on board with having renewable energy infrastructure like wind farms in their neighborhoods. The researchers estimate that we'll need to devote between 93,000 and 400,000 square miles of land to wind farms in order to meet that net-zero goal. While the wind turbines' direct footprint would only be about 1 percent of those figures, their visual footprint — the area throughout which you would likely be able to see the turbines — could be as big as Nebraska, Iowa, Kansas, Missouri, Oklahoma, and Arkansas combined."
Wind turbine abeyance continued in Union County. 12/29/2020 Creston News.
Windmill on Fire near Mahanoy City Monday Afternoon. 12/28/2020 Skook News – Pennsylvania.
"Emergency personnel are at the scene and will let the fire burn out on it's own but will monitor for any falling debris." What else can they do at hundreds of feet in the air.
Public meeting held over wind turbine concerns in Union, Adams counties. 12/16/2020 KMA
More and more of Nebraskans are saying no to wind turbines. 12/12/2020 Star Herald.
Giant Vestas Wind Turbine Collapses in Northern Sweden 11/23/2020 – Bloomberg

Over 750 feet tall turbine, same company as the 6 that have broken blades in the Midwest in the last month! Link is to a paid site but has limited free trial.
Another Voice: Lake Erie can't afford the ill effects from wind turbines. 11/13/2020
New York is importing energy, from Pennsylvania – from their coal plants, which doesn't count on our "output portfolio" – smoke and mirrors for "green appearance." Wind, as a fuel, does not deliver what is demanded by the grid – consistent, reliable, always on electricity. We learned how bad infrasound, or low frequency noise, is to aquatic life back in the 1990s. No fishing organization locally supports Great Lakes offshore wind.

Do we really want an unreliable electric grid, exponentially higher electric bills and frequent rolling blackouts?
Siemens Gamesa unveils new low-wind turbine. 11/12/2020
Its new SG 4.7-155 will feature 76-metre blades, it will also have a "low noise output" of 105 decibels. The American Academy of Audiology suggests that 105dB is slightly quieter than snowmobiles. Siemens Gamesa added that low-wind turbines are important for already well-developed onshore wind markets where the space for higher wind sites is limited.

"Slightly quieter than snowmobiles." But running 24×7!
"Where the space for higher wind sites is limited." So taking over even more ground than before.
Winnebago County Iowa approves wind turbine project agreement 11/12/2020
Updating 44 wind generation turbines. The new blades will be longer, resulting in the turbines being about 33 taller or about 421 feet high instead of 388 feet. The old turbine blades will be taken to a recycling facility, NextEra officials said.
Rob Rand Noise Impact Assessment Overview Released 11/12/2020
Noise Impact Assessment Overview Solar Facility Inverters and Transformers
Page County Supervisors decline property rights meeting. 11/10/2020
During the supervisors Oct. 27 meeting they were asked for a non-participating landowner, property-rights forum. Herzberg and Morris said they could not discuss it since it was not an agenda item. Urkoski then said he could not find any agenda approval stating the Oct. 13 supervisors meeting with representatives from wind-turbine related companies.
Washburn Wind Energy's planned 35-turbine wind farm project in Black Hawk County Iowa dropped. 11/6/2020

The company pulled out of the project July, said City Planner Seth Hyberger. He said nobody wanted to invest in the $120 million project until litigation ended, making it difficult to secure initial funding. The company then found out its wind turbine manufacturer stopped making the 2.5 megawatt models it needed.
State of Wyoming declines to grant land lease for wind energy project. 11/5/2020
After heated deliberation, Wyoming regulators voted to deny a renewable energy company a lease to build a wind farm on state land in Albany County on Thursday, after members of the public expressed concern the development would compromise scenic viewsheds.
Developer drops plans for controversial wind farm in Green Co. Wisconsin. 10/28/2020 WMTV
EDF Renewables had planned to build 24 turbines. Participating landowners have received letters notifying them that EDF Renewables was terminating its lease agreements.
Blade that had been up less than 24 hours breaks in Saline County Nebraska! 10/26/2020 News Channel Nebraska.
Fires at wind farms 'under reported over fears of reputational damage' 10/20/2020

What if one of these Green things caught fire once the crops around it were ready for harvest? There are hundreds of gallons of hydraulic oil in them. Just imagine that burning oil dripping from 400 feet in the air and the wind carrying it however far away. How many thousands of acres of valuable crops would burn before it all could be controlled?

Trump Gives Tiny Nuclear Reactors a Billion-Dollar Boost. 10/21/2020
Popular Mechanics.
MidAmerican Energy takes 46 wind turbines offline after blades fall in rural Iowa. 10/20/2020
Mid American is making noises that they are going to blame lightning damage for all the blade failures.
Another wind turbine blade breaks off in Iowa. 10/20/2020
This time it is in Paton Iowa.
KCCI TV.
Republicans propose eliminating PTC subsidy 9/28/2020
Republican senators have introduced a new bill to completely phase out the main support scheme for wind power in the US at the end of the year.
Broken wind farm blades worry local farmers, residents near Lexington, Il 9/28/2020
The Gage County Board moved to increase setback distance to one-mile, between wind turbines and non participating rural homes. 9/25/2020
The Gage County Planning Commission will soon consider any other potential changes that may be needed to local wind energy regulations,
Setbacks going to property line, versus structure line
Decibel levels of the actual wind turbines
Infrasound
BEATRICE NEBRASKA
'No more wind.' WA state utility questions efficacy of wind farms for power generation. 9/19/2020
Adair Co Iowa Arbor Hill Industrial Wind Turbine Blade Thrown. 9/17/2020
Youtube video.
18,000-pound wind turbine blade breaks in Adair County 9/17/2020 KCCI
Vestas and EDPR to investigate why V150 blade broke off at Ohio site 9/10/2020
As Green Energy Flounders, Environmentalists Embrace Nuclear. 9/9/2020
New Michael Moore-Backed Documentary On YouTube Reveals Massive Ecological Impacts Of Renewables. 4/21/2020. Direct YouTube Link.
Five high profile wind turbine fires.

"Fire in wind turbines is the second most common type of accident reported after blade failure."

"The mechanics, aged 19 and 21, became trapped on the top of the turbine after a fire broke out and died as a result. Due to the height of the turbine and location of the fire, the fire department had trouble extinguishing the fire."

"The responding fire department was not able to put the fire out because they did not have the equipment to reach the height of the wind turbine. They also had limited access to the site because the turbine on fire was located approximately half of mile off of the road."

"Despite precautions being taken of clearing brush and debris from the base of the turbines, the fire from the turbine still caused a wildfire, burning 367 acres."

"The fire spread and caused the Juniper Fire wildfire, which burned over 250 acres and put 39 structures in danger of fire. During the wildfire, the Pine Creek Drainage area was put under a level three evacuation order."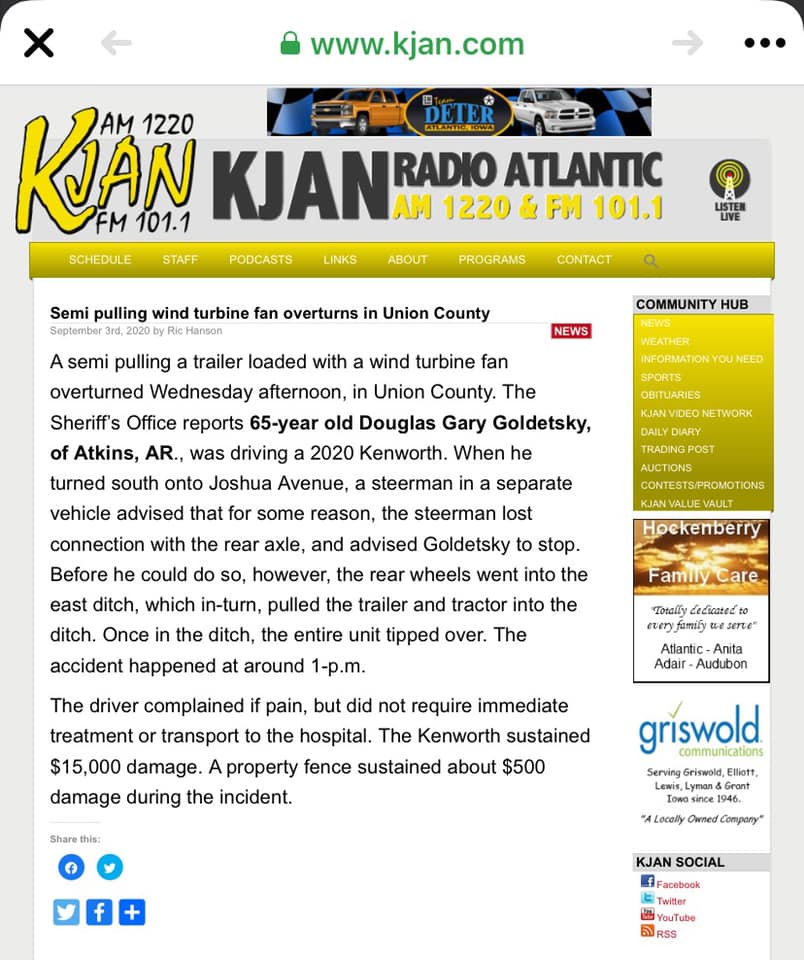 Wind Turbines Can Cause Sickness, Say Public Health Officials
Neighbors in eastern Iowa fight to bring down turbines — and win
'Flickers' and 'stray voltage': Why these Iowans really, really hate wind power